This is the best garden art ideas of 2022 that has gone viral across the world, literally.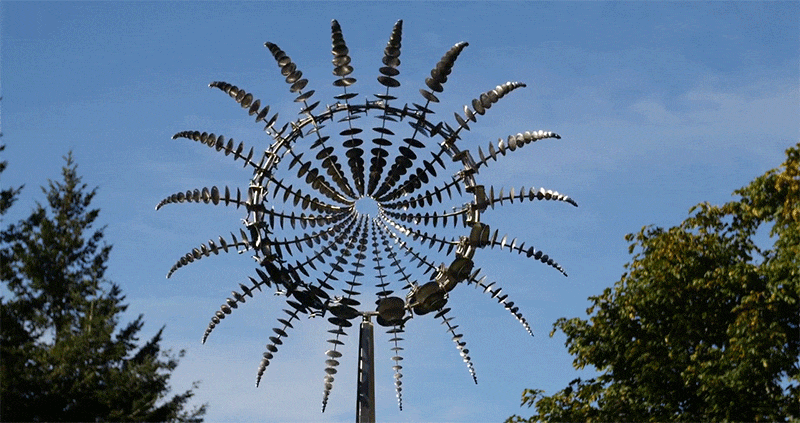 Latest innovation in the garden.
Human innovation has always been inspired by nature. For the year 2022, this has to be one of the coolest garden art ideas ever. Your own private artistic windmill that can add fairy feelings to your backyard. As the weather is becoming nicer, people are starting to relocate their indoor activities to the patio.
As a family, we've always taken great pleasure in tending to our garden, patio or balcony.
In the past, floral arrangements have been mainstream, but they've lost their luster and are no longer popular with the general public. We want something more, something different in this modern age.
There is a new trendy style in outdoor design now! A wacky wind sculpture that defies the norms of the art form. Thousands of people are changing their outlook on gardening and sharing it with their neighbors on social media.
This has gone truly viral around the globe and has made it a new craze.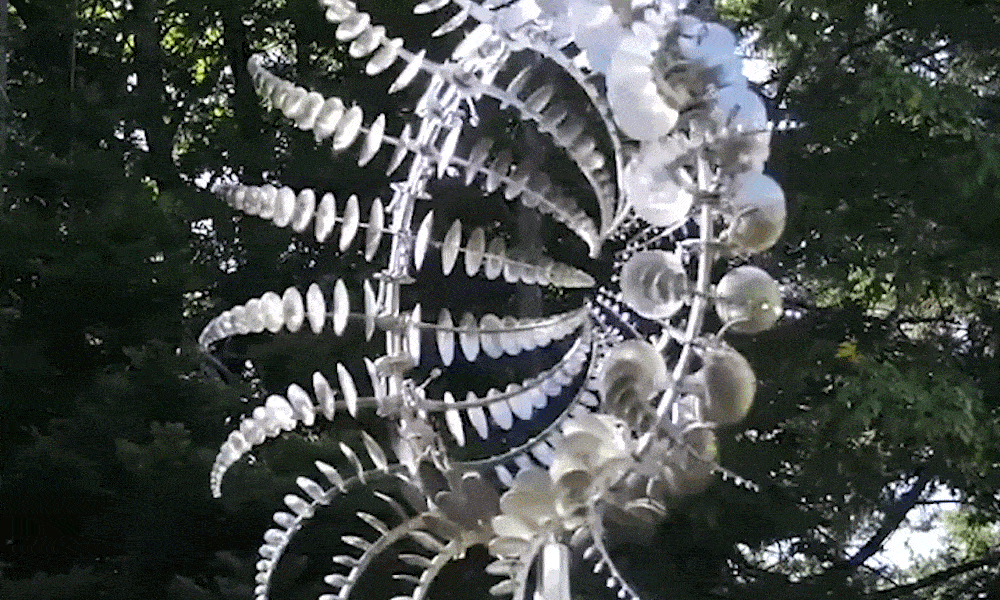 What the hack is it?
Garden decoration has never been cooler than with the Magic Metal Kinetic Sculpture, an artistic, versatile decorative windmill or wind spinner with antique charm. This one is guaranteed to surprise first-time viewers.
The inspiration for this 3D Kinetic Wind-Powered Sculpture came from Anthony Howe, an American modern artist whose sculptures immediately piqued our interest.
Even in a light breeze, this windmill bobs like a beautiful jellyfish swimming freely through the air, displaying dynamic aesthetics and linear elegance. At first glance, it looks like an alien beauty, as this spinner comes to life in a garden of vibrant hues with just a sliver of wind.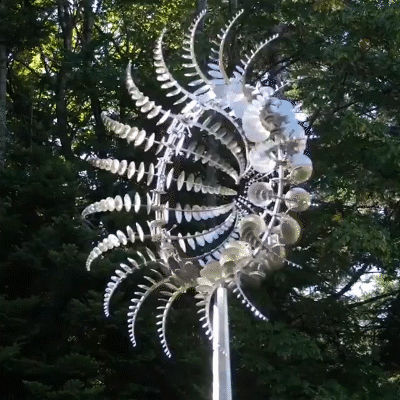 If you want to get inspired by motion and sound working together to bring art to life in a variety of ways, if you wish to spice up your regular environment, then this Magic Metal Kinetic Sculpture might be one of the best bets out there today.
How does it even work?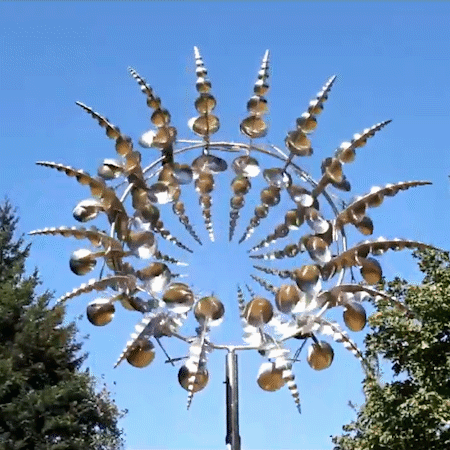 The Magic Metal Kinetic Sculpture, unlike traditional wind spinners, is entirely made of solid metal and moves in two directions.
It has eighteen finely balanced wings that smoothly rotate in the wind around their circular axis. You will feel like the horizon is being shown through a dynamic hole that appears and disappears constantly.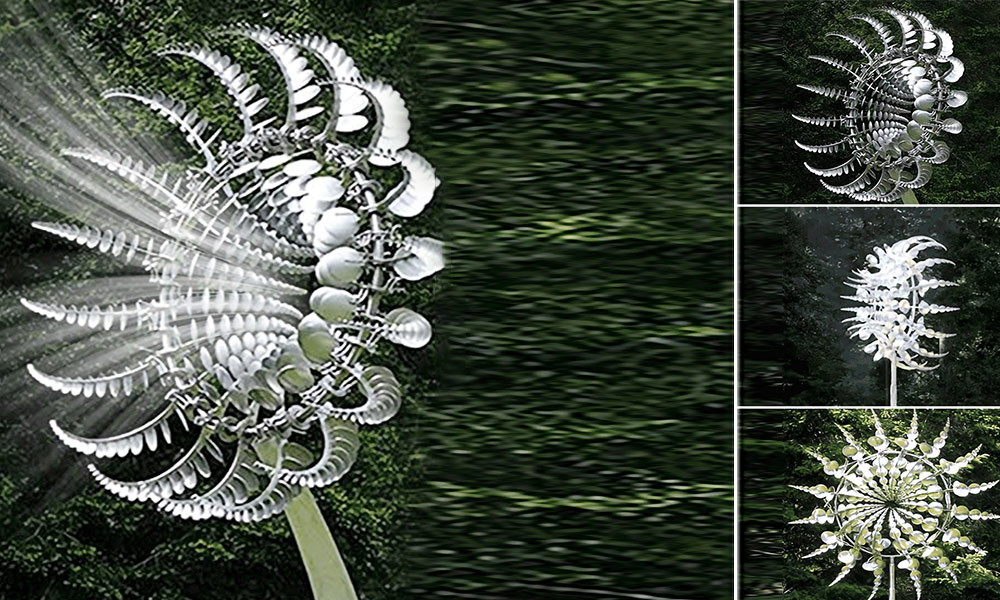 Even in the slightest breeze, its carefully made ball bearing construction allows it to spin in different directions quietly like a charm.
What's so special about this crazy invention?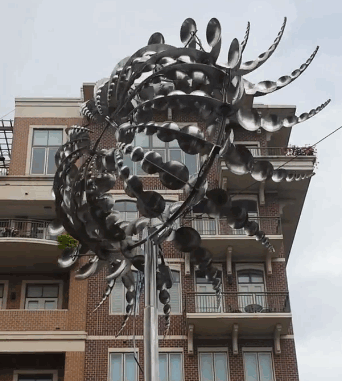 Weather-proof solid structure.
The special-made ball bearings and other parts of this windmill are suitable for any weather, even in 100+ degree temperatures and freezing cold temperatures. A sturdy stake at the base gives this metal wind spinner its kinetic motion and makes it durable.
A new-style work-of-art that will stand the test of time.
With its sturdy iron components and long-lasting paint/foil combo finish, it's an eye-catching addition to any yard. It is simple, long-lasting art that stands with style in your backyard.
No installation hassle (simply plug & play).
It's simple to assemble this garden decoration with the included instructions. All the wiring is already in place. Just place it in a sunny spot and watch the magic happen!
An environment-friendly energy saver
It uses no electricity because it is powered entirely by the wind. You can easily be a contributor to the environment.
What's everybody saying about it?
"This is amazing! This spinner was completely unscathed by the hurricane-force winds that battered the area recently. I've tried a few different spinners before, but this one is the best one I've ever used. "
-- Tony Meyer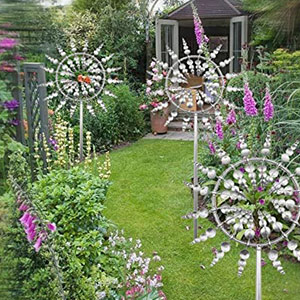 "Amazingly well-crafted and stunningly beautiful!" It's a hit with my wife. She'll sit in her backyard all day and watch it. This was a great way to unwind! This really brought some interesting changes in our lives.
-- Tara Jones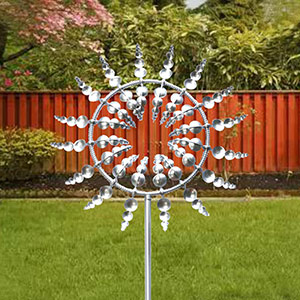 "Finally, after trying a few of the spinners, we tried this one. It appears to be a high-quality piece of art that enhances the landscape in a significant way. It also comes with a special antique touch. I believe I will be able to enjoy it for many years to come."
-- Mike Triose
Frequently Asked Questions
 Q: In the southwest, will paint colors resist bubbling or peeling in high summer temperatures of 100 degrees?
I'm in the Pacific Northwest, and even after three summers, the colors are still vibrant. It was 100 degrees in the summer of my first year, and 98 degrees on average in the last two summers. It is still good.
 Q: Is everything in this Magic Metal Kinetic Sculpture made of metal?
Yes, everything is made of metal. It's made of heavy-duty materials.
 Q: Is it possible to lower or adjust the spinner's height?
Definitely. You can shorten the metal post by removing the middle section. The pipe sections could be interchanged easily.
 Q: How to make sure that it doesn't blow away in the wind?
The bottom post of this windmill comes with three spiked feet. While installing it, you stand to drive it into the ground. That makes it stable and firm! It can even stand still in a strong wind of 70 mph.
Conclusion: Is the expense worth the payback in the long run?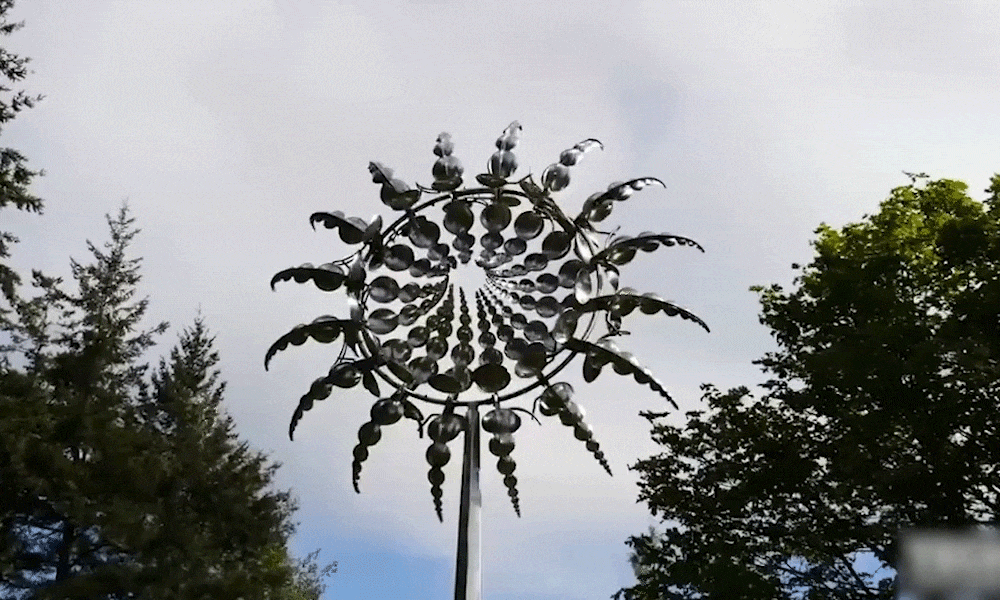 First of all, true artwork is priceless. Moreover, this is the latest innovation in the garden. For such an affordable price, this is a fantastic wind spinner! It's easy to imagine how a piece like this can enhance the beauty and charm of your outdoor space—furthermore, they're currently offering a huge discount on the regular price!
As the weather warms up, you'll be spending a lot more time outside. In terms of illuminating your garden, there is no better option than the Magical Metal Windmill. If you like it, order this magical device to be the first one in fashion in your neighborhood.